.
Benefits of Joining!
We are not a Federal Tribe we are an international tribal membership organization. Most Tsalagi (Cherokee) people who do not belong to a tribe or cannot get on closed or restricted Federal Government rolls are left to fend for themselves. There still remains over one million natives who claim the right of having Tsalagi (Cherokee) blood. Because of political policy within the tribes themselves, it is difficult for those not born on the reservation or who have left their tribal homelands to get established back into any tribal organization. Join our International Tribal Membership Organization and come home to your family. Share and learn our rich history and culture with your Clan, your children and your grandchildren.
.
How Can You Join?
To join we need a completed application that has been notarized. Please scroll down to the UCN logo, right click and print two copies of the application in case of mistakes. When you sign and get the application notarized you are making a sworn statement that you have Tsalagi (Cherokee) Ancestry. In 20 years any document that is notarized becomes a legal court document. Please do not send any un-requested documentation with your application to The United Cherokee Nation (UCN), Your documents remain part of your collection and history.
.
Take the time to carefully review the application information and make sure you make additional copies of all forms not only for you, should you make mistakes in filling them out, but for anyone you know that has Tsalagi (Cherokee) ties. This is the time for each of us who claim the right to be Tsalagi (Cherokee) to join and to assist in THE "GATHERING" of our people, under one collective international tribal membership organization.
"Just to make sure everyone who is considering joining with us understands who we are. This is The United Cherokee Nation (UCN); we are not the Cherokee Nation of Oklahoma, the United Keetoowah Band of Oklahoma nor the Cherokee Nation of North Carolina (Eastern Band). We are a Worldwide Tribal Membership Organization, we are not a Federally recognized tribe. We are your Brothers and Sisters and all of Tsalagi (Cherokee) decent and blood. You will receive no government benefits that I know of, from joining with us. We stand on our own feet, we pay our taxes and do not receive any government handouts.

You will be able to meet and learn about your ancestors from those who are just like you. We are some of the 750,000 "Un-documented Cherokee"; we wish to "Gather" all of those who want a place to call home and a family to celebrate their heritage with. It's what is in your heart that makes you a Tsalagi, not the card issued to you by the Federal Government that says you have enough blood quantum and / or your ancestors were counted like sheep in a specific place, at a certain time in the 1800 or 1900's. Although we do have some Federally registered members who have also joined the UCN, some due to dissatisfaction to what is now happening with the Federal tribes. Any and all Tsalagi are welcome, period. We do not discriminate in anyway. We do not care from where you come, or how you got to this place in time, as long as you now are on the White Path with us.

The right to call yourself an Indian, specifically a Cherokee Indian is guaranteed to you by the Constitution of the United States and may not be limited in any way by those that do not agree with you or who are so young or so foolish as to remain brainwashed by the very leaders that lead them down the path to their own final destruction, as a Nation. Ask the Creator and you will be shown the "White Path of Peace", seek and ye shall find. I would hope some day to have all one million Tsalagi (Cherokee) as members."
.
Please email a request for a color copy of the Application Document in

Word 97 or Word 2003, or download the Adobe PDF from the link below.
As of March 2011 the membership and ID Cards will only be processed 4 times per year due to the volume and my schedule. Those dates are March 31, June 30, September 30 and December 31 of each year. If your application package is at the National Office before these dates they will be processed, any received after these dates will be processed on the next processing date. This is until a new National Secretary is named and the office is staffed full-time. Allow 90 days for this process.
As of November 01, 2012 the Tribal ID Cards are changed to a new style and are valid for the year in which dues are paid. By paying yearly dues and returning your old ID Card, you will receive a new style ID Card.
The United Cherokee Nation (UCN) Application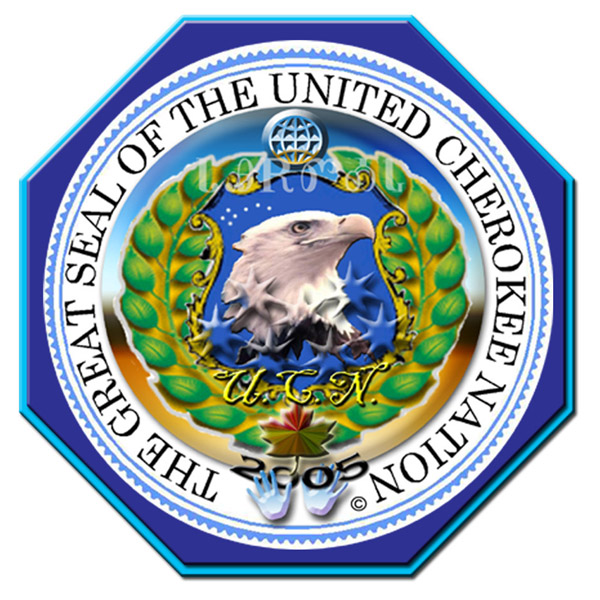 click the link or the UCN logo to view and print

right click to download and save on your computer.

Pay by Postal Money Order or PayPal preferred, no personal checks, please.

Must be mailed, no email documents accepted and no registered letters will be accepted.
For your membership fee send your payment now by PayPal
$36.45, $1.45 covers the PayPal fee, make sure you email me when you do.